Your mobile home is ordered, but you wonder how you can make your manufactured home look more like a house.
Well, remodeling a mobile home is exciting, but it can also become overwhelming as you might have limited space and do not want yours to look like other stick-built houses.
So, whether you have limited living space, you can do a few things to give your manufactured home that upgraded look.
Below, Modlust discusses different things you can do to make your mobile house look like a regular house, not a stick-built home.
How to Remodel a Mobile Home to Look Like a House
You need not live in a site-built home that shouts manufactured. No, with the following design tips, you can me it look like a traditional house in no time.
Give The Manufactured Home Exterior Paint
Putting a lot of thought into exterior paint is essential as it is easy and fast to make your manufactured home look more like a traditional house.
Yes, we know a manufactured home can look as genetic as they are. These homes are produced ahead of time and also in batches.
Yet, with a touch of your own taste, adding detail and some paint of choice, your common-looking trailer home can look like a regular house.
Yet, you need not stop at the doors and walls; you can explore beyond your mobile home structure and paint the fences, outbuildings, and masonry.
Add Some Paneling and Skirting
Paneling and skirting are huge factors in making your manufactured home look more like a structured house.
When you add some concrete skirting, your property will look like it was built on-site and will give it the durability to withstand any weather.
A mobile home is normally made of vinyl on gypsum, and you can switch them out with something that has more pizazz. You can add a subtle personalized element to add style.
You have endless options for adding wood, concrete, or even stone.
Mobile Home Porch
For a touch of class and luxury, a mobile home porch can do the trick. You will increase your living space, looking for permanence in your stick-built homes. Furthermore, it adds curb appeal, and you can choose an open or screened porch.
Add Entrance Steps to Manufactured Homes
If you add a porch or deck not to have a mobile home look, you will need to add some sturdy steps. Using natural stone, wood, concrete, or polycarbonate, you can find durable materials to add curb appeal. You can add handrails to give the overall look a beautiful appearance and safety.
Eaves For Mobile Homes
While eaves are a minor detail, they will become a noticeable element to show whether you have a manufactured home or a built on-site one.
As mobile homes have flat roofs, you can replace them to support eaves to make them look like site-built homes. Still, you must install smaller eaves and gutters about five to six inches.
But if you want to give it a more site-built home look, explore wider eaves, as it will keep the water away from the windows and siding.
Mobile Home Roof Over
Most mobile homes come with a flat root, and the design trend is slowly going out of style and easy to replace. So, replace that flat roof with a more attractive yet functional one for your single-wide home to give it a cohesive look.
Therefore, go for a higher roof pitch to give that traditional house look.
Install Larger Doors
Adding larger exterior doors will make your manufactured home look more like a site-built home. It will increase the ROI regarding comfort and convenience and boost your home's value.
Crown Molding and Trim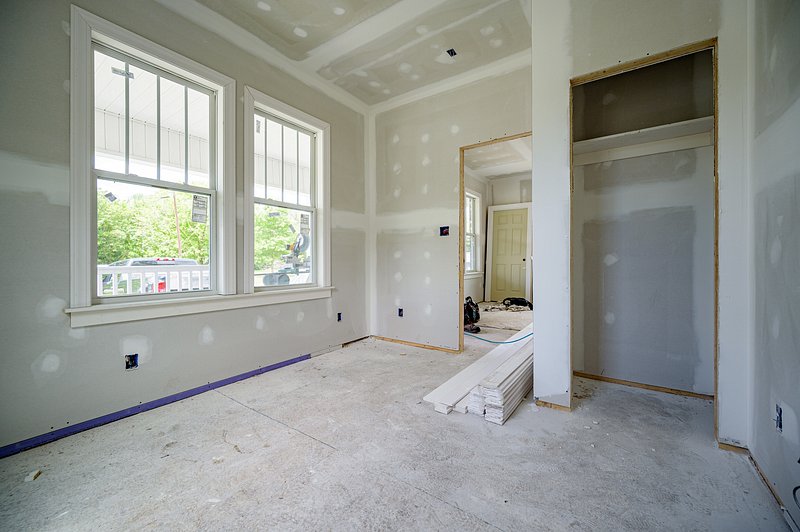 As with the front porch, you can add crown molding to trims to add elegance to make your manufactured home look more like a site-built home. Still, consider the weight of the materials and their durability as well.
We recommend considering polyurethane as it can withstand high moisture content in rooms.
Mobile Home Basement Foundation
Depending on the basement foundation you add, you can double it up as living and storage space, and it is normally lacking in mobile homes. Furthermore, it will provide a better structure and increase the home value.
Add a Garage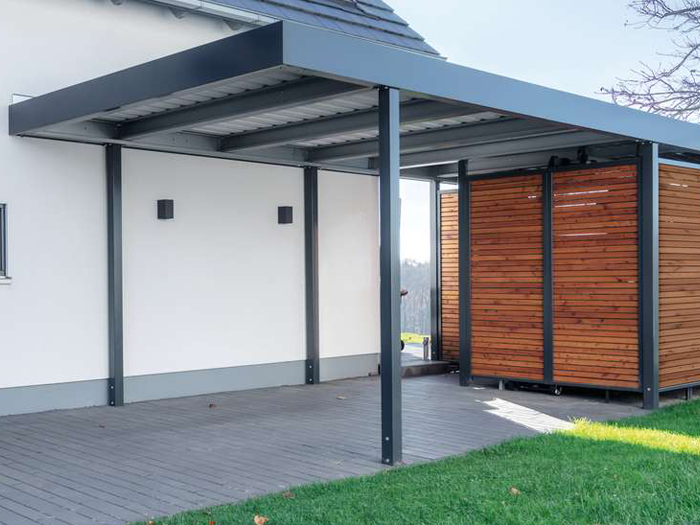 Adding a garage or a carport will increase the value of your home by up to 13%. It helps increase the curb appeal, and adding a fixed garage will provide more storage space while boosting performance. Setting one up is fairly easy, and many mobile home garage kits are available.
Add a Driveway to Landscape
Yard landscaping and a driveway can make your manufactured home look more like a permanent structure. It also adds value to the property. You can find many landscaping ideas, and adding plants to the garden will surely capture everyone's attention.
Still, if you do not have time to work in the yard, consider hardscapes; they work perfectly for dry climates and small yards.
How to Remodel Mobile Home Interior
As a manufactured home is not as big as your modern homes sprawling for lengths, you can easily change the home interior yourself. You can remodel the floors, walls, mobile home doors, cabinets, and more.
Add Some Kitchen Cabinets
Changing the cabinets in your manufactured home will do wonders for the feel, function, and look. You can do this throughout the home to give your house a substantial boost and boost the property value.
So, first, consider your space and the weight of the material you choose, as it needs to work with the structural support.
Do a Bathroom Change
As the kitchen, a bathroom is where you spend a lot of time, especially relaxing. So, create personal space for each of the families. With a mobile home bathroom upgrade, you can make it cozy, depending on your area.
You can change the tiles on the mobile home walls or install a shower to a mini spa. Furthermore, if the home has half-tiled showers, tile them from the ceiling to the ground.
Create a Comfortable Living Room
While mobile homes can limit space options when remodeling your living room, nothing is impossible. We recommend you consider the shape and size you need to work with. You have more options available than you think. Consider the windows, doors, entryways, and more.
The best is to make it as comfortable for you and the family, whether reading quietly, video gaming, or watching a movie.
Change Up The Floors
Most mobile home flooring comes standard, and changing it out with something different will already make your manufactured homes look more like a house. With the right flooring, you can control the temperature and lower money on paying your bills.
Think about hardwood, warm tiles, carpet, linoleum, and laminate.
Decorating Your Mobile Homes
An excellent place to start is to change the drywall providing you with a canvas to create a piece of art. While we are on art, you will have more decorating options made possible.
Choose the correct elements to turn the corner of your manufactured home into a vibrant and functional one. Add a layer of light paint to widen the interior walls to create an open space. Also, invest in fixtures that serve a dual purpose, like a pullout couch or a table with storage space.
Other affordable ways are utilizing large drapes, adding a wall trim, or creating your own wall art to display collectibles. You can even separate your rooms with dividers instead of using actual walls.
Frequently Asked Questions