When you think of how to sell your house, you want it to be a stress-free sale and fast. You want the right real estate agent to find qualified buyers to collect the cash and hand over the key to potential buyers.
But in real life, it is not as simple as you think regarding a home sale. You want the best price and will get multiple offers, but it involves many moving parts.
Some you can control, while others are out of your hands. Why, as many things depend on getting the right price to reach a purchase agreement as follows finally:
Geography can influence how long it takes to sell your home

How high is the list price that you can get away with

Where is the location where competition is hot and is the inventory low

Or has the sales market cooled down, then you need to work harder to find prospective buyers
The real estate market has shifted, and frantic bidding wars are over. Hence, the median price has risen above $400,000 while the mortgage rates are high. So, how to sell your house is now more of a challenge than ever. But we have you covered with some helpful tips to get started.
I Want to Sell My House. Where Do I Start?
After deciding to sell your house, find a good real estate agent, or place a multiple listing service, do a walk-through inside and outside your home. Start by fixing minor problems like wear and tear, loose siding pieces, missing drawer pulls, and dents in drywall.
If needed, give your home a paint job, choosing the best interior paint colors for a modern home. For the bigger stuff like the HVAC system, water heater, roof, insulation, and more, check them out, as it can raise a red flag with a buyer's agent.
Still, before you make upgrades spending money, ensure that your changes will bring a higher return on your investment. This is where the next step comes in, as a real estate agent can advise you on what you should improve during the home sale.
For example, updates to a bathroom or kitchen can bring you the highest return on your investment. So, a fresh coat of paint or sprucing up your landscape is a low-cost way to make an impression on buyers for a successful sale.
So, you can have a pre-sale home inspection upfront done by a home inspector to identify major problems before the selling process starts. A home inspection can cost a few hundred dollars but is worth the while in the long run.
Find a Real Estate Agent or FSBO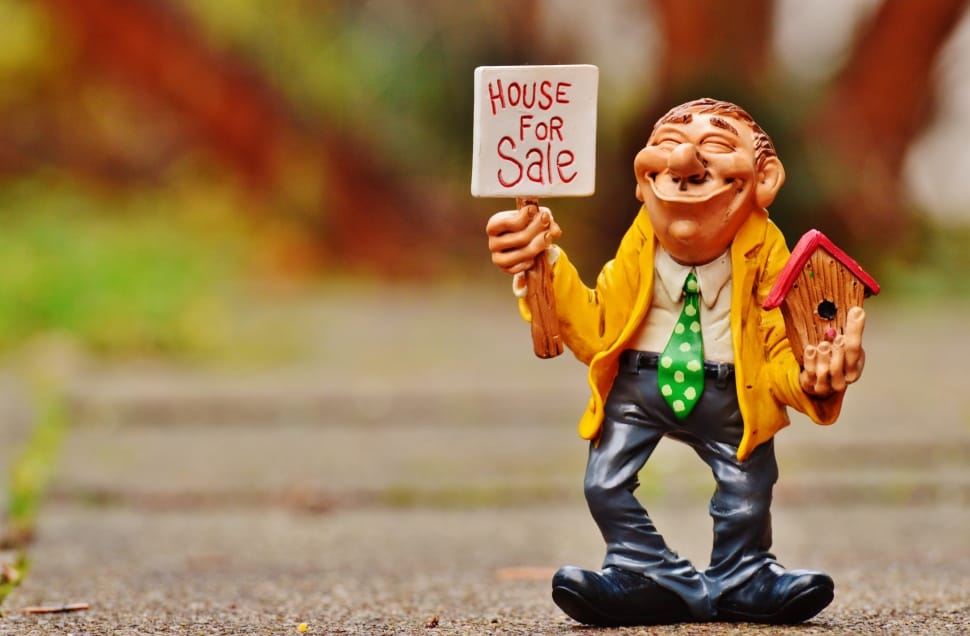 Great, now that you have decided to sell your house, you have two options for sale by the owner to save money on the listing agent's commission, but it is time-consuming, and you need to know the home selling process.
Or interview up to three real estate agents to choose the right agent to maximize the home sale online to translate into a smoother sale. In turn, the real estate transaction will leave you with more money in the bank. Here are the most important steps when selling your home.
Set a Reasonable Timeline To Sell Your House
The home selling process is a significant undertaking, and it can take months or even longer, depending on the comparative market analysis and conditions. So, plan ahead to remain organized. Hence, the first step is finding an excellent agent who knows the local market.
Also, before you list your home, get a pre-sale home inspection done, as mentioned earlier. And schedule enough time for repairs you need to have done. A month before listing the home, start with deep cleaning and take listing photos while removing clutter and moving items into storage.
Hire a Real Estate Agent Who Knows the Market
You can start by looking for a seller's agent online by checking their profile to learn how long they have been in the home selling industry. Check how many sales they have closed and if they earned any designations.
Also, please pay attention to where they list homes and what the photos look like. At the same time, the for-sale-by-owner option can save up to 3% of your total sale price. Real estate agents do a comparative market analysis and can reach a broader home buyer audience to negotiate the selling price on your behalf.
Furthermore, they can negotiate the closing costs as well. Also, remember that the real estate commissions are negotiable.
Set a Realistic Price
Even with a competitive list price, buyers do not want to spend more than they have to. Hence, when selling your home, you want to attract buyers with the right price.
Setting the price too high can lead to fewer buyers while setting it too low leaves no money in the pocket, especially if you still have a remaining mortgage balance. Check recently sold properties in your area to get an idea of a reasonable price for selling your home.
So, price your home to attract a qualified buyer to invest in personal property.
Selling Your House With Professional Photos
A realtor typically does the step when registering your home listing on a multiple listing service. Here are some helpful tips for online photos:
Now that you have a good agent with a proven track record, work with them to capture marketing photos to sell your house in natural light. Ensure you get high-quality photos, as it is critical when you sell a house. Many sellers are online, and your home must capture potential buyers' attention.

While curb appeal is essential when taking professional photos, you must consider online appeal. Thus, the web presentation will determine who contacts the realtor to make an appointment.

Stage your home by freeing things clutter-free removing personal belongings and excess furniture. If you sell a luxury modern home, invest in a professional stager in a slower home market to stand out. Also, remove any family photos and other overpowering personal things

Most importantly, when you sell a house and have an open house, ensure you are not at home when buyers are there to view it.
Review Negotiated Offers
Once your home is showing, you will start getting offers, but keep in mind with mortgage rates so high, what the buyer's financing can afford might be smaller than what you like. For this reason, the realtor is your best advocate for advice.
If the market favors the sellers, buyers will offer close to your listing agent's price. Still, if sales are slow, you might need to negotiate. When receiving offers, you can accept it as is, give a counteroffer, or reject it.
The counteroffer is negotiating the price/terms and can still insist on keeping your list price in place. It would be best if you made it in writing for 48 hours or less for buyers to respond.
In a competitive price-based market, you may be lucky to get multiple offers and want to go with the highest bid, but look closely at the aspects as well:
What form of payment will you receive? Is it cash or financing

What type of financing will it be

Is there a down payment amount

Contingencies, concession requests, and when is the proposed closing date
Your property must be appraised when a potential buyer relies on lender finance. If there is a shortfall between your purchase price and appraised value, that gap will need to be made up somehow, or that deal will fall through the mat.
Tax Implications and Closing Costs
While saving money with the right realtor on board in any transaction, both parties must pay some closing costs. So, typically:
You pay the listing agent a commission of around 5% to 6% of the home's sale price. For instance, on an asking price of $400,000 home, six percent comes to $24,000, a considerable chunk.

The other closing costs when selling a house are transfer taxes and recording fees.

Furthermore, if the buyer negotiated any credits paid at closing to cover repairs, you will also pay those.
Ensure that the realtor you use provides a complete list of all costs you will be responsible for when selling a house.
The good news is you might not owe the IRS taxes if you get profits from your sale. For example, if you lived in the home for two years out of the previous five years before deciding to sell, you will not need to pay taxes on profits up to $250,000.
For married couples, the amount to exclude from tax increases is $500,000. If the profit is greater from the sale, you must report it to the IRS as capital gains tax.
Hire a Real Estate Attorney
Many states require you to have a real estate attorney to help close a home sale. Still, whether it is needed or not, the expense is worth the while. Having a legal expert on board helps. The attorney can help with the paperwork, review documents, help with title insurance, and other potential issues that can arise.
Selling Your Home Making the Close
When selling a house, you need to do a lot of paperwork, and to keep things organized, you want to keep them in one place. With the agent, they will help ensure you have everything you need. Some primary documents you will need are:
The original purchase contract

The property survey, occupancy certificate, certificate of compliance, and local codes

The mortgage documents to tax records

Your home purchase appraisal

Homeowners insurance and the home inspection report
Then, take all the paperwork, the payment of any fees, and the keys to hand over to the new owners at closing. Your house is sold once you sign everything, and it is handed over.