With our luxurious bathroom ideas here, you can find tranquility to pamper yourself and your loved ones. You can relax with a freestanding tub or enter a dual waterfall shower room.
Imagine natural light shining on a natural stone vanity or even intricate tiles to curated lighting to create a dream spa bathroom in your next new home that all will love.
Are you interested in starting a new interior design to transform your old bathroom scheme into a new luxury bathroom for the main bedroom or guests?
Then stay longer and allow us to show you how to make your house into a dream home with a modern spa bathroom.
What Makes a Luxury Bathroom
Before we get to some of the best bathroom schemes or bathroom decor to create a blissful home spa, let's look at some bathroom features that you can add to your bathroom design to make it look fabulous:
Features Of a Powder Room
Statement lighting like pendant lights with a unique shape

Seating like a lounge chair, vanity chair, or pouf

Mirrors with shower walls filled with mosaic tile or any other gorgeous tiles

Freestanding tub with gold accents on the tub fittings to make it the focal point

Freestanding vanity or a built-in one to create more space by eliminating double sink fittings

Bidets or smart toilets to Japanese-style washlets

Luxury bathroom fittings to fixtures

Some fine art with built-in discrete storage suitable for a small bathroom scheme
So, add some of the bathroom features you will see in our luxurious bathroom ideas presented here today.
Luxury Bathroom Ideas to Get You Inspired
Great, now that we have covered some basics to create luxury bathrooms, let's peek at some modern luxury bathrooms here.
Modern Spa Bathroom For a Luxurious Look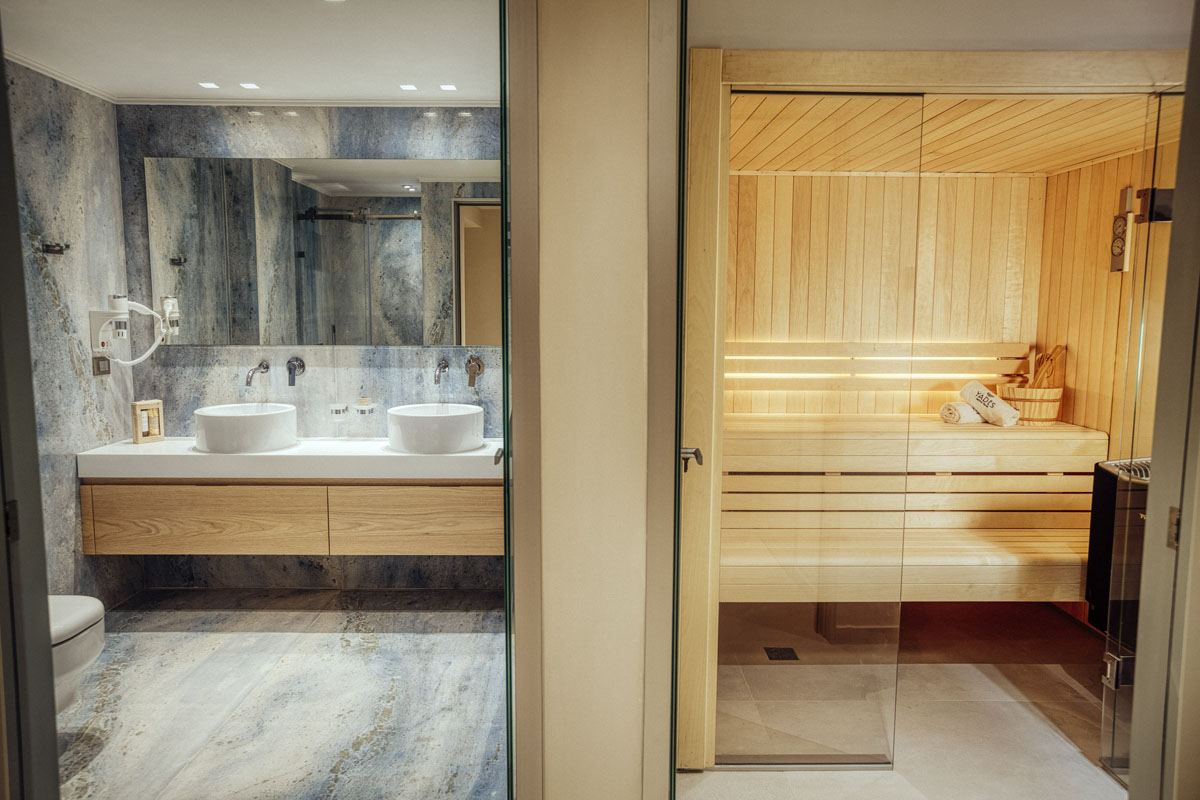 If you have a separate room connecting to your unused bathroom, you can form a superb living space by adding a sauna to your bathroom. You can add some soft textured wallpaper or tiles or use wood grain to make it appealing.
Parisian Style Luxurious Bathroom
Parisian decorative elements are trending at the moment, and when looking at the image, you can see why. You see antique mirrors to furniture with vintage light fixtures, a gorgeous soaking tub, and clean lines. You can add a chandelier from the era to give the entire room a traditional laid-back look with a minimalist design.
Luxury Living Appeal with Bathroom Art
The bathroom idea of using art in your regular bathroom, even if you have limited square footage, is sure to make the bathroom feel luxurious. Hang a favorite art piece on the wall to give it an elegant look. Then add natural light to natural materials and bring in some greenery.
Still, we do not recommend using a seaside theme but select ones you would place in your home living space.
Wooden Luxurious Bathroom 
Wood adds warmth to any space, whether the primary bath or a guest bathroom. More interior designers are implementing wood with French doors and accent lighting into bathrooms. If you have the space, you can add a double vanity with medicine cabinets in wood to give it a luxury feel.
Wood gives a spa bathroom feel as you create a sanctuary where you can relax in your private oasis after work. You can even add wood to the surrounding walls without getting a clinical style. Cladding walls add a personal style and help reduce the echo.
Still, if you have the space, you can introduce timber in different interior designs like a timber-fronted vanity or wood baths and the air scented with a wood sauna.
Luxurious Bathrooms With Rounded Features
For the wet room, curved shapes will transform your existing bathroom into something new. Choose organic forms to round mirrors and luxury fittings to bring nature to the bathroom. The best way to introduce rounded shapes into your interior design is to make them the two key focal points in your basin area and around the bath. Or add some tables to the bathroom decor to soften it.
Add a Luxury Shower
Nothing is more therapeutic than a luxury shower added to make luxurious bathrooms. These days you can find interesting shower technologies to give you a spa-like feel with the benefits of hydrotherapy included. Choose sports-style directional shower heads for your spa bathroom to help relieve muscle pain.
Add Texture to Bathroom Walls
A bathroom creates a space where you can unwind, and if you want a luxurious bathroom, then make textural elements the focal point. So, forget about those smooth surfaces with tiles and brassware. Instead, add some texture to your bathroom decor, like using shiplap walls or marble tiles on the floor.
Colorful Sanitaryware For Luxury Bathrooms
Whether you go with colorful permanent fixtures or a floor, it means commitment and not for the faint-hearted. You see pink, purple, deep mustard, black, and greens entering the bathroom. Or you can go for white sanitaryware and paint the wall or even the bath exterior
Luxury Modern Spa Bathroom Decor of Stone
Think of exotic stones using onyx, marble, or natural materials like gray stone tiles to wash basins. Or have a custom-made basin in an agate pattern porcelains.
Get Bathroom Lighting Spot On
The light is integral to your bathroom decor as you want it to highlight the space. It is best to plan things right to create the proper mood lighting in your bathtub or shower. Think of ambient to natural light entering your room to perfect the bathroom design.
Place the lights strategically in your luxury bathroom to indulge the moment in your shower or bathtub. You can add lights above the vanity from the wall to one on the ceiling to highlight the floor or place some waterproof lighting close to the tub to even your shower.
Take Care With Bathroom Decor Tiling
It takes careful planning to tile the floor with marble or add tiles in gold accents to the walls. You can find a wide selection of tiles for your bathroom design, from stone, wood, and porcelain. Most of these tiles are scratch-to-water and stain-resistant, do not need sealing, and are found in realistic colors.
The fabulous thing is you can find ones looking like real stone to add to a wall or the floor.
Make a Bathtub Statement
In your bathroom design, the tub is the show of your bathroom decor, standing out as the focal point in the wet room. Whether you have one made of marble, stone, cast iron, or composite resin, you must enjoy a luxury deep soak. So, choose a soaking tub that fits your bathroom design to become the highlight of the bathroom decor.
Luxurious Bathroom With Modern Marble
Now for next-level luxury in a bathroom, nothing displays more than the exotic stone marble. The material, whether in a bathtub design, on the floor, or on the wall to shower, looks elegant and gives a bathroom clean lines, but you need to consider the space where you plan to use the stone.
Bring The Outdoors Inside
With some small bathroom changes and if you have the privacy, open up that window to create a space to bring the outdoors inside your luxurious bathroom. You can even incorporate a glass wall or extend the floor tiles to eliminate the boundaries between the interior and exterior.
Luxurious Bathroom Decor in Black & White
Nothing shouts luxury bathroom more than black and white bathroom decor. You get clean lines with a classic white tub with details in black and a white floor tile to add style.
Add Windows at The Shower
The shower is the best place to add light to your spa bathroom to become a natural focal point. No matter what tiles you have, open up sections placing windows to the outside world, and you can even include a built-in window bench for a relaxing space to sit and shave your legs.
Spa Bathroom Double Shower
Add a double shower when you have a spa bathroom with a freestanding bath, and have the space available. Add some patterned graphic tiles, and you can even place a tub with two shower heads on the opposite side to enjoy a soaking or standing shower with limited space. Then add shower doors to keep things tidy.
Shower With Ledge
Everyone knows you can enjoy a relaxing bath, but what about the shower? Why not add a ledge to display your soaps, have a seat to shave, or even do your hair mask? You can even rest a glass of wine while enjoying your shower.
Double Niche Bathroom Decor
Double things up in one bathroom with two washbasins and double storage to separate your everyday products from another to enjoy your relaxing soaking tub.
Faux Windows
When interior designers have limited room to work with, and not everyone has the open views seen above, a simple rectangular mirror can mimic the other windows or sliding glass doors in a bathroom. It creates perspective and bounces around the light to maximize views in your bathroom.
Add Luxury With a Privacy Wall
You can create a sense of privacy with a shared bathroom by creating storage space between the toilet and bath, building a wall, or some storage racks.
Relax in a Built-In Tub
While the freestanding tub is all fashion these days, investing in a classic built-in one can make your bathroom decor look luxurious. Depending on the room available, you can add a streamlined to square one to suit your taste.
Added on Storage Nook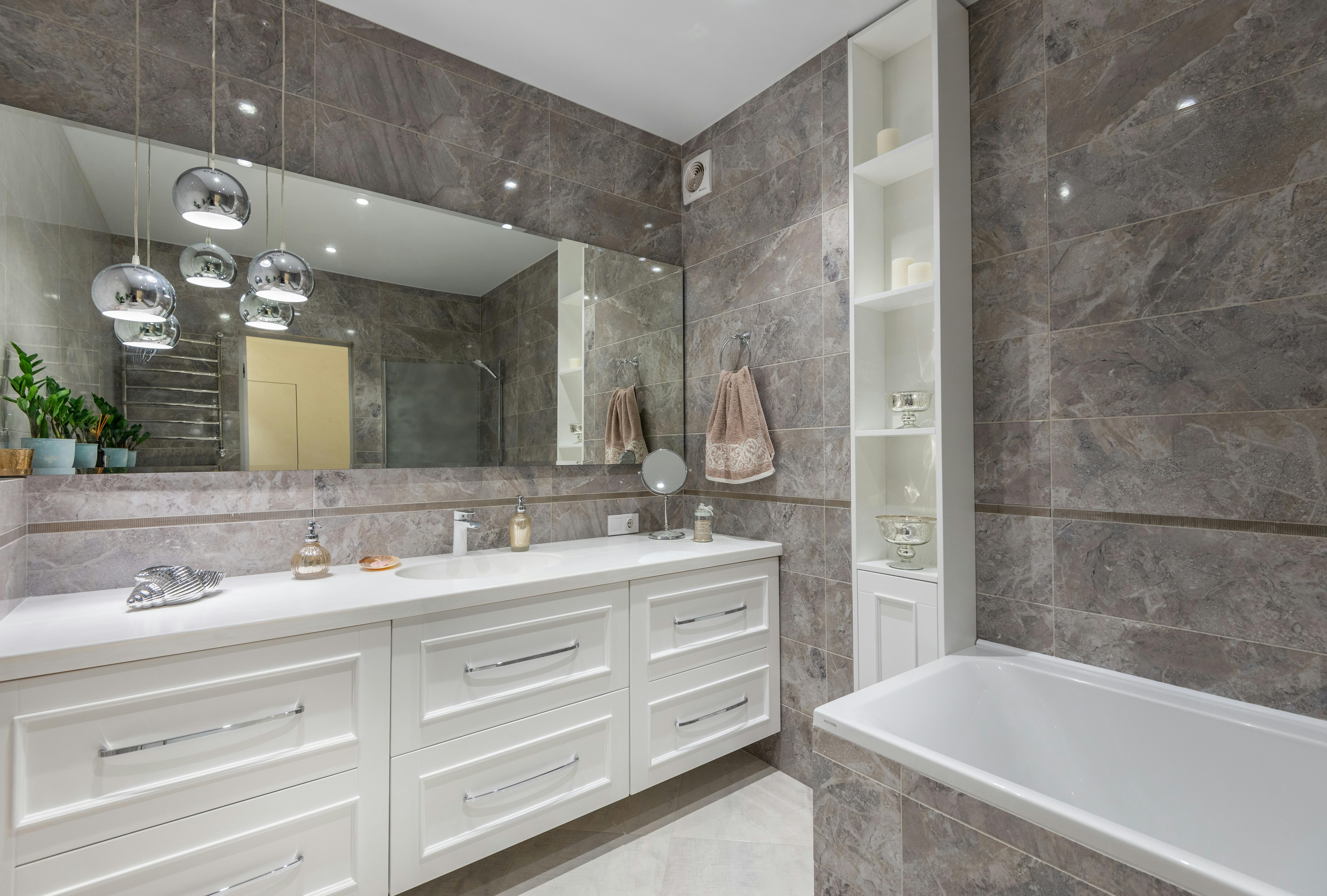 With an added storage nook, you get an area where you can keep all your bathroom essentials, like your spa goodies while enjoying a relaxing soak in your bath.
Final Thoughts
The above are some luxurious bathroom ideas to create natural beauty. While the fun part lies in choosing your fixtures and finishes, another essential thing is to decide how you can maximize function to help optimize your layout before starting with the finer details.
So, when it comes to a successful bathroom decor design, you must decide how your bathroom will function and flow. Thus it means what is the best design for your shower to bath and other amenities you plan to use in the design.
We hope the above ideas help you create one of the best luxurious bathrooms to enjoy and relax.
Frequently Asked Questions