At the end of the day, after a long day of work and stress, you would find yourself lying in your bed and having some sweet dreams. Some say their bedroom is where they find comfort and peace of mind. It is a place where they can have their privacy.
The best part is, who said that modern living cannot be cozy? Check out the modern styles we have here.
Inspirational Modern Style Bedroom Ideas
What makes a bedroom modern? You want to create a polished vibe with a modern, cozy design. For you, this means bringing rich materials and a color scheme with a pop of color to dramatic textiles and art.
Still, it depends if you want an airy, dreamy, masculine, or moody space. So, we recommend bringing in a bit of your personal style using sculptural elements, a chaise, chair, or a mystery to romantic accent wall art or piece. Here are some modern bedroom ideas.
Another notable thing is that it is not the master bedroom anymore as it is discriminated against and has changed to primary bedroom ideas.
1. Contemporary vs. Minimalist
People use the terms contemporary to modern bedroom ideas interchangeably. Still, they are not always alike, as modern refers to a specific style while contemporary refers to a style in vogue.
As a modern decor scheme is trendy, it can still fall under your contemporary umbrellas adding more confusion. The bedroom concepts in the image are an excellent example of a popular decor style with modern attributes.
2. Modern Bedrooms Where Form Follows Function
Regarding the modern design scheme, form always follows function and means the importance of every piece of furniture to the area used. Hence, the appearance is secondary to the function. But it does not mean that your modern design is ugly.
It only means no excessive adornments are used, leaving you with pristine lines and loads of open spaces.
3. Mid-Century Modern Master Bedroom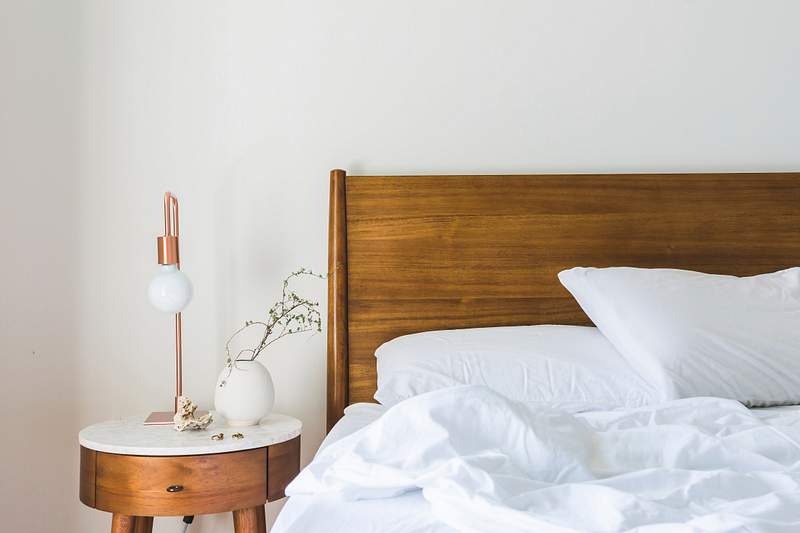 Alternatively, you can add a flair to your modern bedrooms with mid-century modern bedside tables, as it used to be a hot decorating scene during the 1950s and 1960s. You can quickly refurbish your mom's old table lamps to side tables to give your bedroom a modern elegance filling up some empty space. You will add traditional elements to your main bedroom or the guest room.
4. Modern Color Bedroom Feel
The above is a perfect example of bringing touches of color to your bedroom, whether small or large. It will make your house beautiful by adding visual interest in rich textures, as it will make all the difference to make it feel fresh. So add some light to dark shades for a modern feel.
5. Natural Patterned Textiles
Embrace your home decor with natural light colors like wood, chrome added, and woven cushions with a gray rug with white bedding. The padded table brightens things to give fresh color to the bedroom design.
6. Geometric Patterns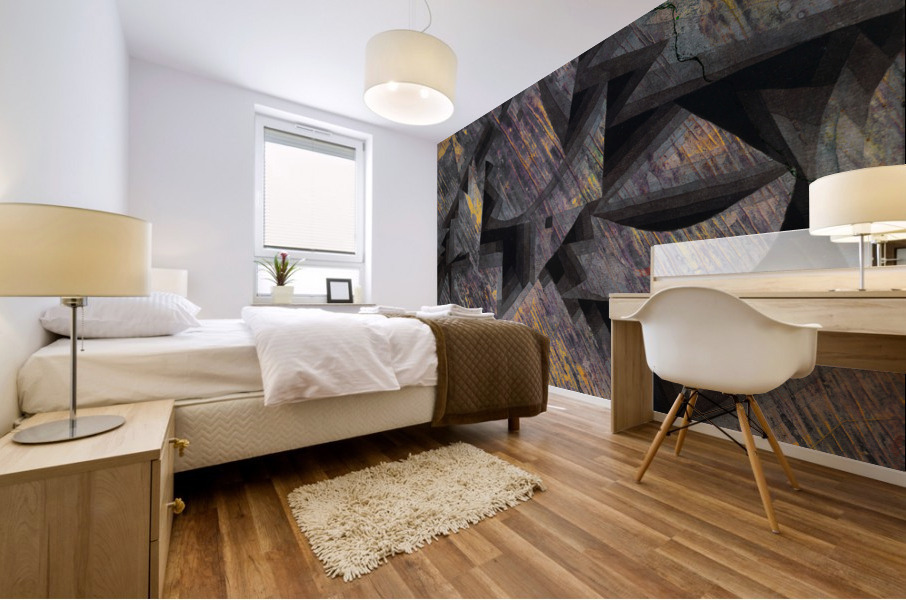 Another integral part of modern bedroom ideas is bringing clean lines using geometric patterns. The geometric found objects in the room were carefully chosen to make the bedroom functional and fun.
7. Art in The Spotlight
Regarding modern bedroom ideas, knickknacks to collectibles are a thing of the past. In a small bedroom, you do not need general clutter; instead, you can highlight your artwork like posters, paintings, or prints on the walls.
8. Scandinavian Bedroom
The Scandinavian approach embraces clean to streamlined decor that has a functional look. It tends to use more neutral colors with white walls; the same applies to the bedding and floors.
9. Raised Furniture With Exposed Brick Wall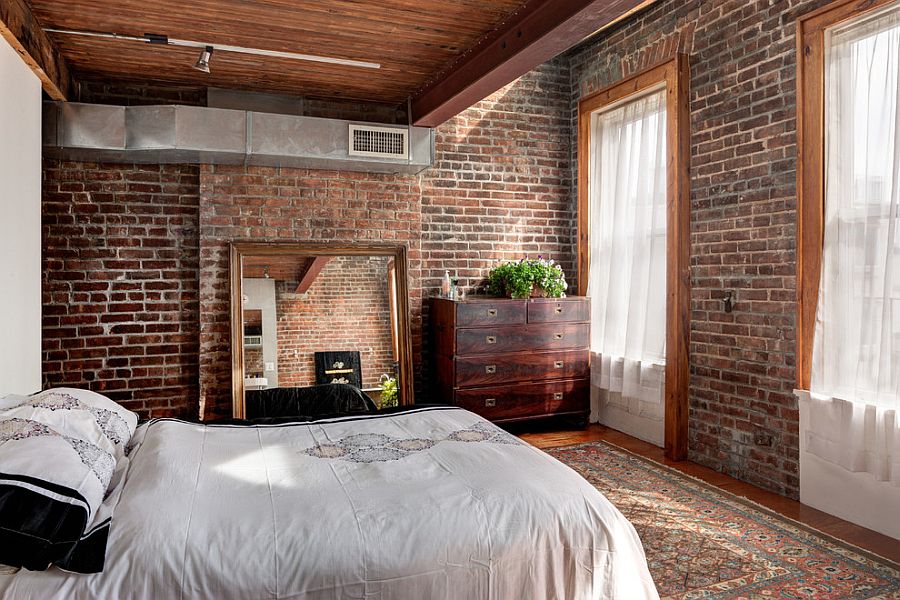 Another thing you often see when an interior designer helps design your main guest bedroom is a visible brick wall with raised furniture where you can see the wooden legs. A raised profile provides an airy look that feels fresh in the home, especially in a small room. Furthermore, it makes a modern room look chic.
10. Modern Aesthetics Bright Accent Wall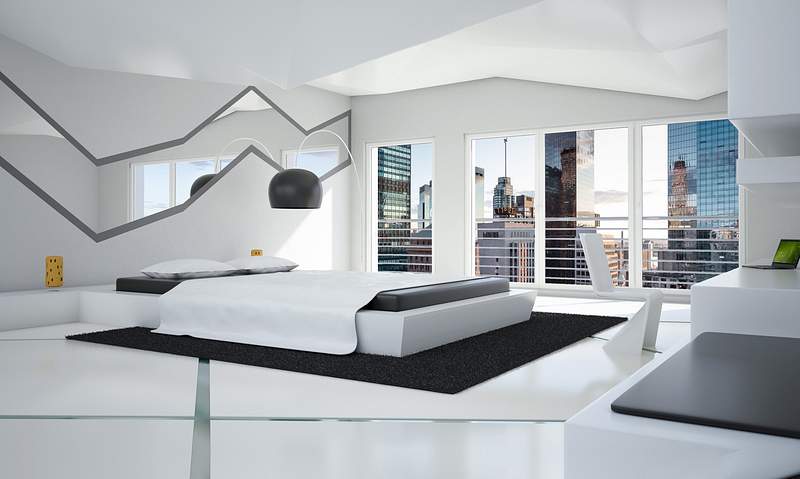 While the hallmark color scheme is subdued, you can add bright pops of color using accent pieces. Add some yellow to metallic and lime green to brighten the white walls.
11. Modern Bedroom Ideas With Bright Accents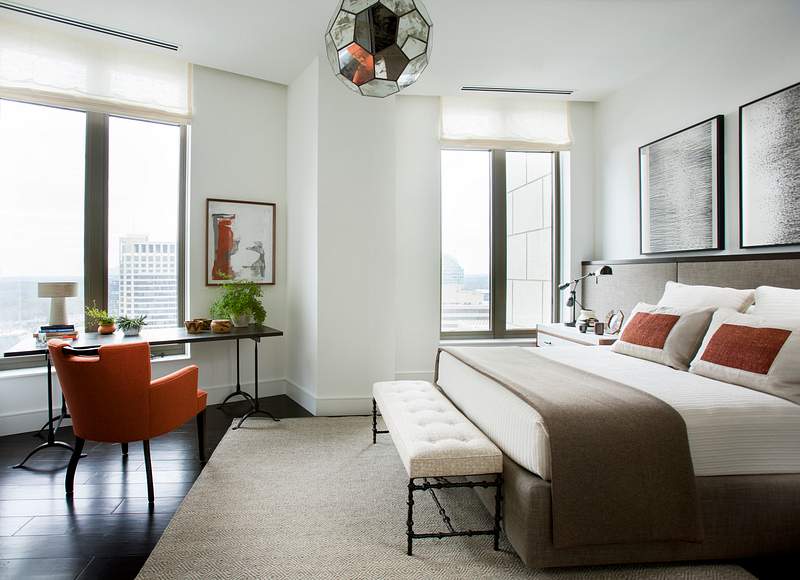 With a bedroom designed in the modern era, everything used in the room is versatile, adding function to the living space. So, create a main bedroom with a modernist theme that works for you. From a small work area to a sofa to relax with a book.
12. Add Interest
Despite having neutral colors to simple lines and no accessories, it does not mean you cannot add visual appeal with a pendant light or any other modernized light fixture.
13. The Bedroom Designed Light and Airy
Whether it is a teenager's room or the guest bedroom, there is no clutter with loads of furniture. You only need one piece added as one table makes the space more liveable and airy. When you include one specific item, it highlights its distinct role in keeping things minimal and spacious.
14. Polished Surface
Most of the room's surface is smooth and shiny, with lacquered or polished floors to furniture. You see metal accents from chrome to glass to give a clean vibe.
15. Show Personality
No matter your decorating style, from the bed to the walls, your main bedroom must show your personality to make it a place to relax and unwind. So, add some fun elements to assemble an elegant space you will enjoy.
16. Multi-Purpose Furniture
When investing in modern bedroom ideas, furniture that serves multiple purposes, like a bed with storage, is high on the list. Whether it is a bed with storage a bench with storage space, to floating shelves, each serves a purpose.
17. Angular Light Fixtures
While you have soft colors with uncluttered lines and no excessive ornamentation, there is one rule you need an unusual light fixture like an atomic style to brighten up your space. You can add one above the bed or to the walls to create a perfect balance.
18. Minimalist Bedroom
When you look at a minimalist room, it emphasizes a simple space without all the adornment added.
20. Add a Platform Bed Frame
A simple platform bed frame adds a modern touch to any bedroom, providing storage underneath for storage or leaving it as an open modern space. One thing is for sure these decor items are versatile in the room.
Frequently Asked Questions