The best backyard water features can be a great addition to any outdoor space. You can find them in all shapes and sizes with different styles.
The best part is that a water feature adds life to the front or backyard. Whether a stone fountain or a small backyard water feature, it will become the focal point to add visual interest to any garden.
Once you choose any outdoor fountains on our list, you can add plants and listen to how the water trickles to enjoy the soothing sounds.
Furthermore, you can enjoy your plants with the flowing water and be surrounded by a tropical paradise. So, get some inspiration from the water feature ideas available here.
Best Water Feature Ideas For Your Outdoor Space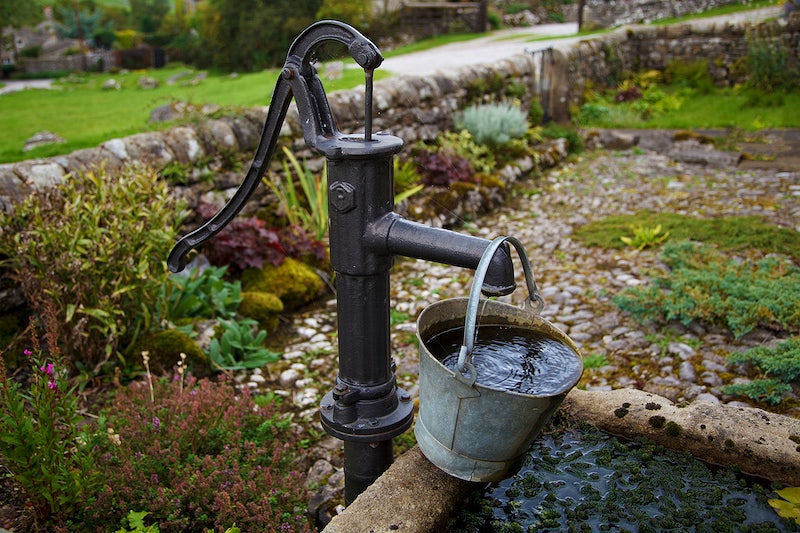 Make a splash in a garden by adding one of these low-maintenance water features. Enjoy the rippling water to soft spray to make your yard cooler, giving it a calm feel.
Whether you want to create water gardens with koi ponds or pondless waterfalls, it is possible with the eye-catching design here.
Just think you will have a unique style even if you have a small space, as there are many different types to add to your landscape.
Koi Ponds and Water Gardens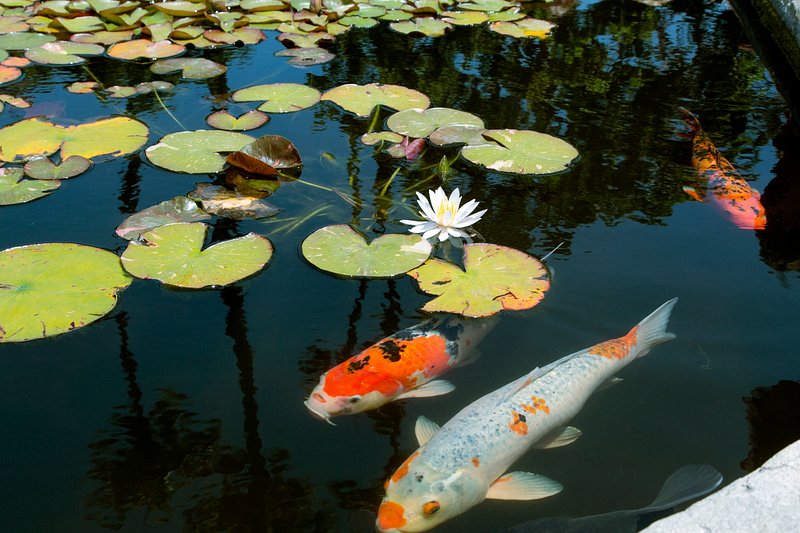 The water garden is known as the koi pond and is one of the most rewarding features to add to your patio or landscape. Having an aquascape garden pond is very self-sustaining and is low maintenance. You can even create a small pond with water cascades and feel assured that guests will take a closer look.
The best part is adding interesting plants to the pond with a bird bath nearby.
Pondless Waterfalls
For more ideas regarding backyard water features, the pondless waterfalls are a sought-after landscape feature. All you need are rocks in the ground with some stone and the waterfall kit customized for your space. You can install this pondless waterfall feature in the front or backyard to enjoy the soothing sounds.
Small Backyard Water Feature Using Decorative Fountains
Whether you want a small or large fountain, it is possible with a fountain kit to add a splash of water to your yard. These fountains provide a soothing sound suitable for a small space. It will brighten the garden even when using a basin to fill with water running through a pump.
Or get some rocks together; instead of buying a decorative waterfall, create one yourself.
Patio Water Wall or Pond
This type of outdoor fountain can be customized in many different sizes and shapes so that it will fit the size of your patios very well. Alternatively, creating a patio pond filled with fish is another excellent idea. You can easily retrofit your garden and not only your home.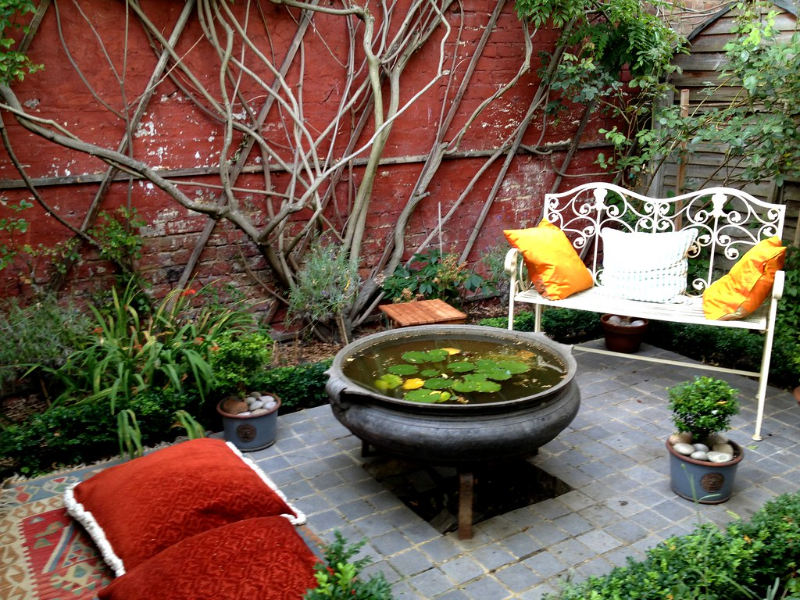 Alternatively, you can take a shallow basin or a small bath in an old pot to create a fish pond on the patio.
Wooden Barrel Water Fountain
This fountain style is typically made from an old wine or whiskey barrel cut in half and mounted to a stand. One thing is for sure: it will become a focal point as a small waterfall fountain in the yard.
Solar-On-Demand Outdoor Fountains
This outdoor fountain is solar-powered, so no need to worry about power sources! Furthermore, as it works with sunlight, you can even enjoy a fresh drink of water or see the birds flocking to it to have a bath.
Water Garden
This outdoor water feature is lovely, providing a relaxing outdoor space. You can add some fish with water plants to add beauty to your outdoor living space. With the right plants, it can become a low-maintenance backyard water feature.
Plant Pot Water Fountain
Enhance the look of your gardens by adding plant pots decorated to use as fountains throughout the landscape. You will not need to deal with the hassles of plumbing. This is an excellent option if you want a fountain but don't want to deal with the hassle of plumbing in the landscape or setting up a water line.
Bubbling Water Fountain
The outdoor fountain designs are a great way to add personality and beauty to your outdoor space. Or, if you want something more natural, add a bamboo fountain instead.
The sound of the water bubbling over the bamboo is soothing and can create a Zen-like atmosphere.
Bird Bath Fountain
This comes with a pump and tubing kit, so you can easily set it up and enjoy the sights and sounds of running water in your backyard. The best part is that it attracts birds for you to enjoy looking at in the garden.
Rocks and Concrete Mix Fountain
This design makes for an easy DIY project if you're looking to save on costs.
Below the Rocks Fountain
The rocks are placed at the bottom of the fountain, and water flows over them, creating an attractive and natural-looking feature. The stones make this water feature stand out even if it has no ponds and is classified as another pondless waterfall.
Go With a Wall Garden Flowing Water Feature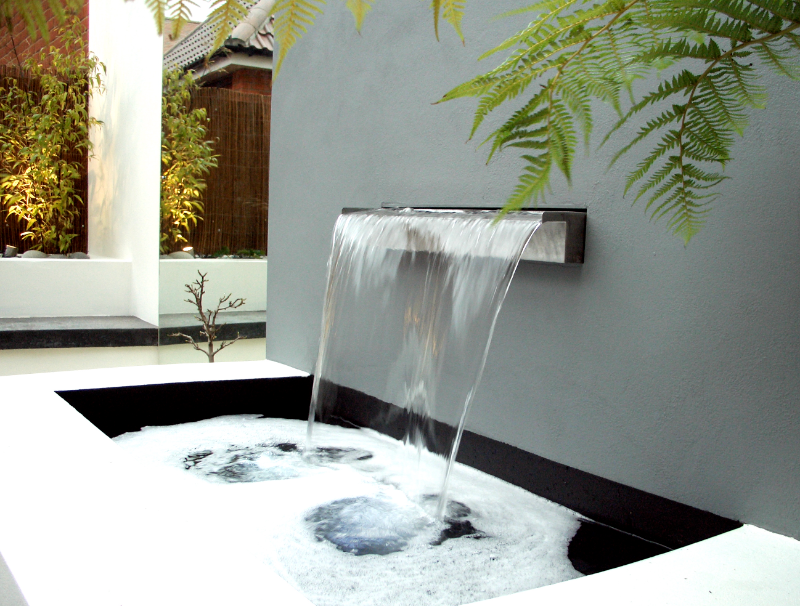 Why not use a wall by adding a modern waterfall to a pond? Add some plants with seating in the area to enjoy these waterfalls in your backyard.
Walkway Water Features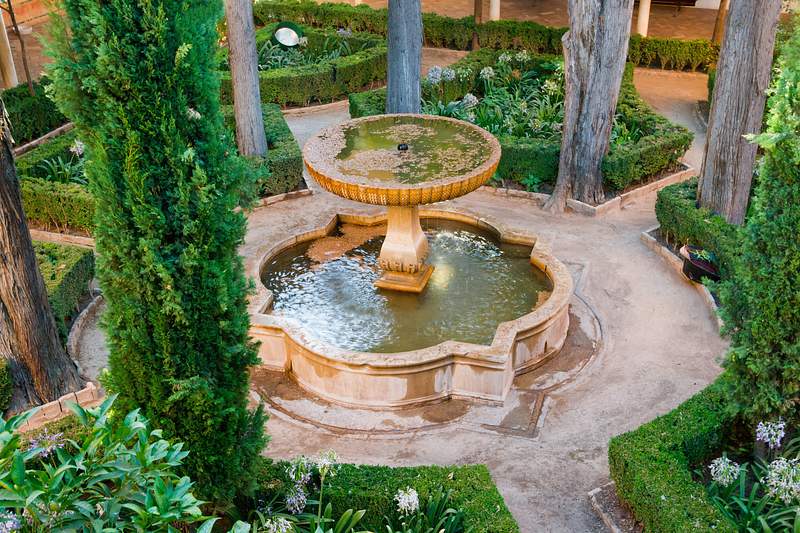 Another great option is to place your water feature near a walkway or steps for guests to admire when passing by. You can select a small backyard water feature with water trickling into a shallow pool. Add some potted plants to give it a tropical or Mediterranean feel.
Japanese Garden Inspiration
You can construct a tranquil garden whether you have water gardens with a water wall, bird bath, or other water features. Add plants around a pond relating to Japanese culture and clump some banboom with other elements to make it look gorgeous.
Outdoor Shower
Step into your water feature with an outdoor shower to liberate your daily shower routine.
Hanging Wall Fountain
If you have a small backyard and want to add a water feature, the next best thing is a wall-mounted fountain. You can transform your drab wall and give it some character.
Hot Tub Water Feature Ideas
If your backyard is small, you can add a backyard water feature like a hot tub you can enjoy warm or cold. While not big enough to enjoy a few laps, you can sit and relax in it in summer and winter. So, you need not dig up the soil, as creating one on the deck is easier than installing a pool.
Frequently Asked Questions