A floating staircase features a modern design to add a personal style with clean lines to your living space.
So, why not create a floating staircase design with open risers and support beams that ticks all the boxes to give a modern feel today?
We chose some of the best staircases with a floating effect to add to your place. Check Modern House Design on a Budget for more ideas on modern-designed homes.
What is a Floating Stair?
Floating stairs give the impression of openness in your house, making the area appear larger than it is. They also don't completely block views or the next wall. As a result, they're an excellent option for individuals searching for a more modern aesthetic in their homes!
Floating Staircases Ideas
When installing a floating stair system, you can find several options to add to your interior design. The best part is you can add any of the modern floating stairs seen here to future projects to let them have more natural light. You can find a custom-engineered stairway to suit everyone's interior design taste.
Metal Floating Stairs
Here, we have a stainless steel stairway with a simple handrail as the main support from the same material. It adds a touch of industrialism to the interior decor as the walls have a rough finish. You see different shades of gray to create a nice balance, and it is found in a West Seattle Residence.
Floating Treads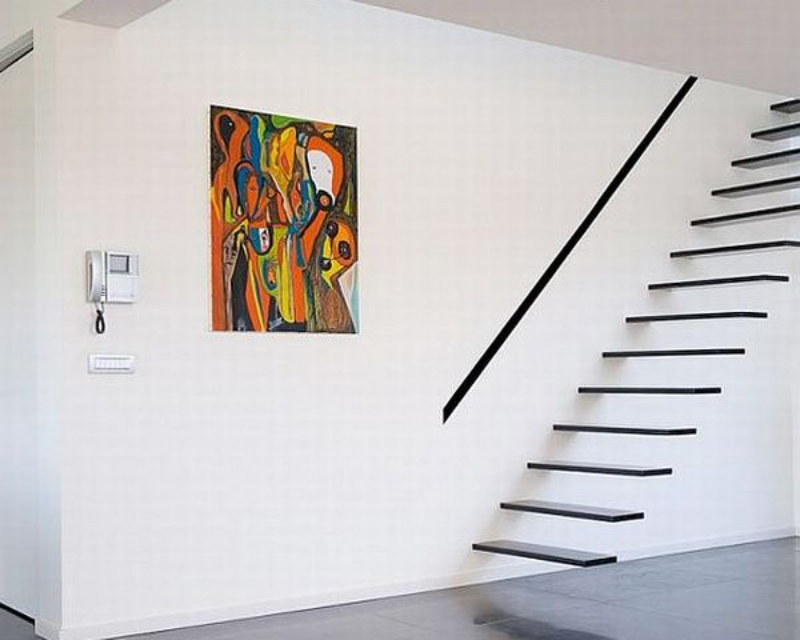 For something more minimalist in decor, you see a black floating staircase that stands out from the wall with thin, simple lines and dark colors against the white wall. To fit perfectly into your modern home, you can make your stair system using different wood species, from red oak to Brazilian cherry. Klaarchitectuur designed the floating staircase above.
Floating Staircase Ideas With Wood
The attractiveness of the vast and minimalist entryway is enhanced by its simplicity and transparency. You must agree that a wood and glass railing system gives a place an asymmetrical, unique, yet eye-catching design. It creates an unusual yet interesting effect, allowing in more light.
Wood and Concrete with Glass Railing System
The look of a floating staircase with steps and a glass banister is edgy and modern. It creates an airy open space while the rest of the home remains transparent. It has a strong glass balustrade that stands out against the dark color of the stairs.
Enclosed Double-Stringer Floating Stairs
The custom staircase with an open riser design and welded steel frame makes this stringer floating staircase unique.
Industrial Staircase
The stair stringer, railing top rail, and handrail are all made of steel that seems like they came straight from the mill. The staircase design is also known as a mono-stringer floating stairs.
Floating Stairs with Zigzag Stringers
The black powder finish on the stringers may contrast with the light color of the white oak stair treads. Stainless steel supports and a white oak top rail make up the railing. The treads are thick, while the glass panels add flair to any living space. It looks as if it has a stainless steel railing system.
Monumental Floating Stairs
For the stairwell, it was developed and built an Ithaca-style cable railing system. Instead of using stone treads, they used wooden ones.
Rustic Floating Staircase
The stair stringers and cable railing posts are powder-coated steel in a matte "Raven Black" finish. As you can see, it looks like spectacular wood. It also has thick treads for stability.
Grand Entry Split Stairs
A steel stinger and mounting plates for the heavy wood treads are installed on each flight of stairs with a connecting walkway floor platform. The style with the white walls and steel frame makes it stand out. Now imagine something like this in your house.
U-Shaped Stairs
In this stair design, two straight stairs run in opposite directions and are connected by a platform.
Cantilevered Stairs
These stairs are linked by a steel stringer that runs parallel to a concrete wall, giving the impression that the stairs are fixed.
Sawtooth Double Stringer
For the steps, cable railings were utilized to keep the open feel. With its crisp, clear lines, the new staircase is a beautiful match for the home's modern interior design.
Black Floating Stair Treads
The black stair treads do not follow a straight line but curve to create a spiral staircase design with a strong contrast and shape.
Floating Staircase Features Cable Railing System
31 Blair Road Residence @archdaily
These floating staircases are different and are not attached to a wall but hang with a cable railing system. As you will see, only one portion features the detail against the wall. The design is at Blair Road Residence.
Floating Steel Staircase Design
These floating staircases found in a home in Casa VMS, Spain, were designed by Macros Miguélez. It is in a granite-clad home that connects the living room to the library.
Steel Staircases
We have steel stair treads coated and suspended from the ceiling beam, creating a sculptured stepped formation. The staircase by Haptic is completed with blocky wooden steps that doubles up as seating with an open-plan kitchen.
Staircase Suspended by Steel Poles
Sturlasgade stair by JAC studios
The steel staircase is by Jac Studios in Copenhagen, designed in two parts for an apartment in Sturlasgade, and has pale-toned finishes with natural lighting. It is suspended from steel poles with a smoked oak look and tapered with terrazzo steps.
Chunky Cantilevered Staircase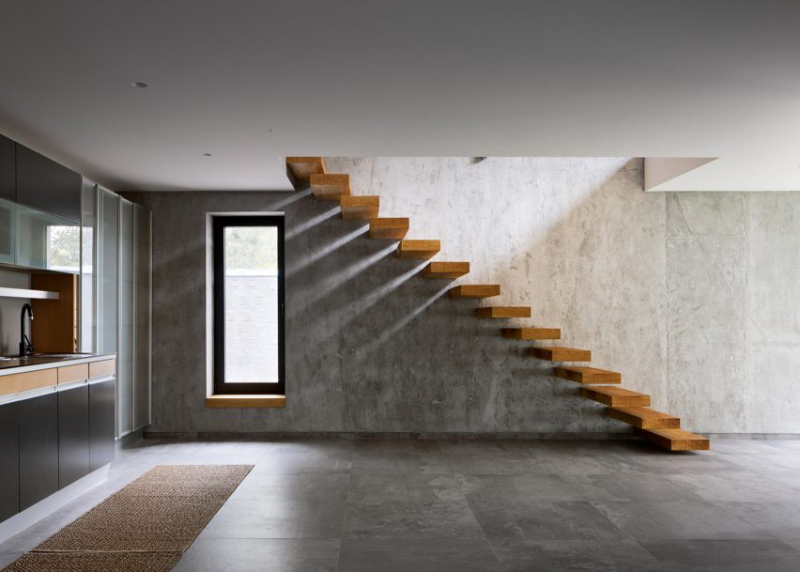 The chunky cantilevered staircase is found in Ukraine against a concrete wall that Azovskiy & Pahomova Architects designed.
Frequently Asked Questions