Walk-in showers without doors are now a trend in most modern homes. Because there are no door swings or frames to consider, this type of shower takes up less space in a bathroom. It can be customized to fit your lifestyle and décor preferences!
Furthermore, it removes the use of shower curtains and is great if you have a family member with mobility issues in the home. Still, what should you consider before installing showers without doors? Let's find out.
Things to Consider Before Building Walk-In Showers
Before you start to look at the walk-in shower ideas we have available, consider the following:
When it comes to doorless showers, size matters.

Take into account multiple drains.

Only use lights and fixtures that are waterproof.

Install a nice ventilation fan in your room.

Non-slip flooring is the best choice.
Pros and Cons of Doorless Showers
As with any renovation, designing and building your walk-in shower has advantages and disadvantages.
Pros:
Make the bathroom appear larger

There Will Be No More Water Spots on The Door
Cons:
There will be less privacy.

The Bathroom Could Be Ruined by Steam and Water Droplets
Walk In Shower Designs
A walk-in shower layout fits into a small or larger bathroom design, creating a gorgeous space to unwind after a long workday. So, if you would like an airy walk-in shower, check out these ideas.
Small Walk-In Shower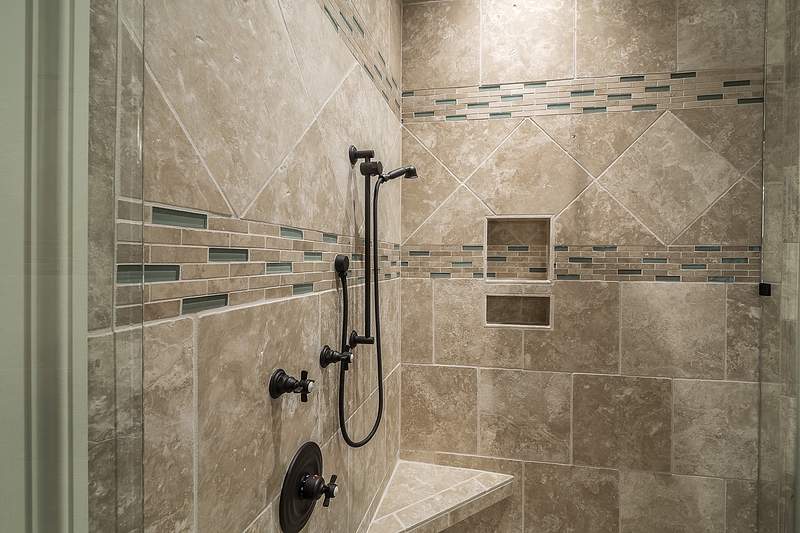 As an interior designer trying to utilize compact space, it helps to install fixed glass panels for your shower space. With a waterproof design and ceramic tiles over cement, it will prevent water spots and mold. The glass doors create a spacious interior design. You get a luxurious feel after a long day in this gorgeous bathroom. The best part is it has a minimalist look.
Designer Walk-In Shower Ideas
For the large bathroom, you can add a spa-like feeling to the available space. You can create a bathtub with a shower with different showerheads, including a waterfall to a handheld device or a wall mount version to relax.
Shower Ideas For Bathrooms
When it comes to walk-in showers, you need not have a bathtub as you can remove it and create your shower near a window to allow in natural light. You will have enough space for a small shelf to keep all your toiletries and more. You can even create dual showerheads with a waterfall, wall mount, and handheld shower. You can even include a rainfall showerhead.
Cool Walk-In Shower Ideas
The walk-in shower stand will impress you as it allows natural light and has neutral marble tiles to create a modern bathroom feel, making it look larger. There is even a soaking tub added to provide a functional space.
Walk In Shower With Glass Wall
The fogged glass provides seclusion and transparency. While the soft, muted, neutral color brings this 80s favorite into the twenty-first century. Hence, it adds visual interest to a bathroom, and the chrome fixtures in the primary bath are exceptional.
Marble Patterned Tile Shower
With glass doors and marble patterned tile with a shower bench, this walk-in shower is suitable for someone with problems standing in a shower. The extra space allows for ease of use, while the white tile on the floors gives it a seamless look. If you prefer, you can even add a built-in bench.
Half-Wall Marble Shower
The white concept is grounded by a single accent wall tiled in a dark tone. It is a spacious walk-in shower with the back wall in the same white concept, while the darker tiles wall space makes for a seamless transition.
Wet Room-Style Shower
If the flooring has additional space in your primary bathroom, why not design a spacious walk-in shower with a freestanding bathtub? You can close it with glass doors to keep the water splashing out, making your bathroom feel larger. One thing is for sure: this is a smart move and color scheme to make your space feel more relaxing.
Modern Shower And Tub Combo
With a large walk-in shower and bath combo, you will have enough space to add a vanity. The vanity will provide added storage space, and you will have no problem when you walk into this bathroom bumping into each other. The tiles on the wall give the bathroom a spacious feel, while the windows allow in more natural light.
The glass doors prevent water from splashing into the rest of the bathroom.
Subway Tile Shower With Glass Enclosure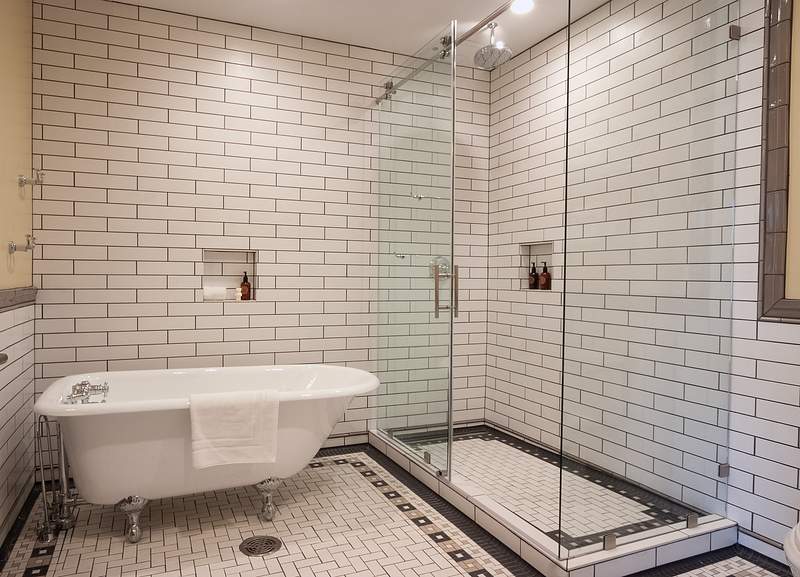 Translucent glass walls on both sides maximize the graphic tiled wall's visual effect with a central entry point. The white tile on the walls and the floor stand out with the black tiles. One thing is certain: the subway tile never goes out of fashion in any interior design. So, you can enjoy a shower while your loved one has a soaking tub.
Vault-Style Shower
The vault-style portion, rounded at the room's end, also defines the space for the drop-in bath. While this might not work in a small bathroom, The break between the two creates interest with loads of walk expanse.
Corner Shower With Bench
For a primary bathroom, this corner-designed walk-in shower still provides enough freedom for more than one person to use the bathroom. You will not walk into each other. There is even a vanity for storage, and the glass doors provide more light.
Shower with a Nature's View
The above walk-in shower ideas are only a few you can use indoors. But what about having a small walk-in shower outdoors? You can connect with nature while it has enough natural light for you to enjoy the breathtaking views. You do not need a shower enclosure or tiled floor walls as everything is made with natural bamboo and wood with a freestanding tub to create a place called heaven.
Shower of Wood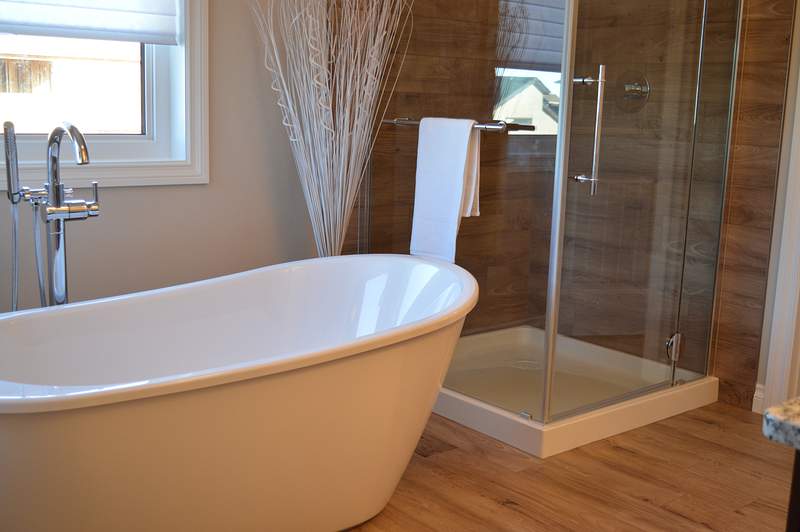 Add a corner shower next to your bath with a glass enclosure for limited room. Then add some wood tiles to shower walls and floor to give your bathroom a natural-looking style that is modern and versatile.
Frequently Asked Questions